Up The Duff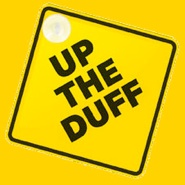 Original Production produced by Fresh Glory Productions and York Theatre Royal in November 2009
"a tenderly affecting piece of drama … pant-wettingly funny"
The Guardian
Written by Lisa Evans
Directed by Damian Cruden
Designed by Helen Fownes Davies
Lighting by Richard G Jones
Musical Director Christopher Madin
5 women, 1 man, and a knitted uterus…
Midwife Sheila endeavours to lead a group of four very different women through to labour and blissful motherhood. Happily married
teenager Jessica, with her cousin Janice's ludicrous birth superstitions always to hand, swaps life lessons with 40-year-old career woman and IVF patient Roshin, and old school friends Teresa and Kizzy. Meanwhile Sheila's well-meaning hubby Graham tries to sort out the world with DIY, causing some memorably sticky moments along the way.
But there is more to this baby business than meets the eye – empty-nester Shiela is sick of the NHS, and why is she in the local papers? What's the story behind Kizzy's strange unwillingness to join in? Is Teresa's husband really more interested in fishing?
Being "Up the Duff" isn't all radiance and unmixed joy, and Lisa Evans provokes wry smiles as well as belly-laughs as Roshin asks: "Jesus, Mary and Joseph, what have we let ourselves in for!?"
With all the confusions, joys and baffling indignities of pregnancy and childbirth, UP THE DUFF is a comedy with heart and brains as well as a lot of funny writing and laugh-out-loud situations. It's not pink or girly or frilly and will be enjoyed by men as well as women of all ages.